Second semester ended with 방학식, the principal's official send-off for winter vacation and the following day I was on a flight to Kenya, by way of China and Thailand.  I've been referring to my Africa trip for about 6 months now: the ascent of Kilimanjaro, our fundraising efforts for Crater Creations and the Maasai Kisharu community, and bonding with the nine others on the trip as well as the people we met along the 16-day journey.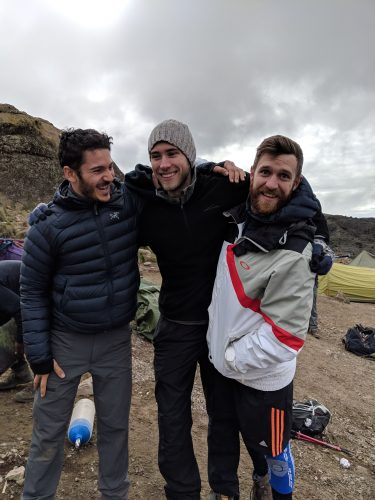 For time's sake, I'll stick to describing the atmosphere of Kenya and Tanzania and providing more information about Crater Creations and the ongoing projects and efforts of the Kisharu people.  Collectively we took thousands of photos and videos on this trip, so I'll tell more personal stories through the photo captions.
---
Kenya – Nairobi, Suswa, Kisharu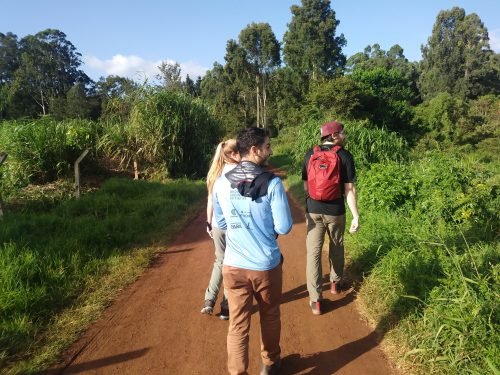 I touched down in Nairobi in the early hours of the morning on a Saturday, dazed and confused by 27 hours of travel and layovers.  With my Kenyan travel visa and vaccination card in hand (you must submit proof of having received the yellow fever vaccination before entering Kenya) I was prepared to start the adventure.  Unfortunately for me, the Jomo Kenyatta Intl. Airport in Nairobi is infamous for losing luggage and I was just another casualty on the long list of frazzled travelers hopingly waiting beside the luggage carousel.  My bag luckily arrived days later just before we left Nairobi for Tanzania and the Kilimanjaro hike.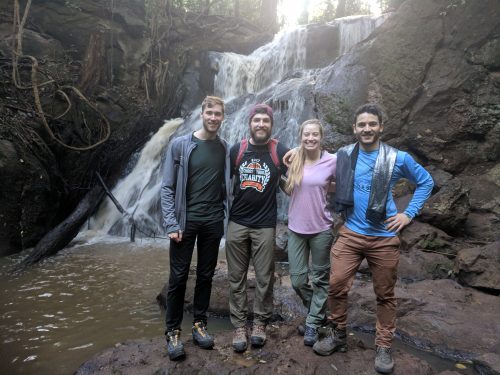 Driving away from the airport, I learned a few things that contradicted my preconceived notions about Kenya and Africa in general.  First of all, Nairobi is extremely green and lush, a byproduct of the altitude, surrounding mountains, and unique precipitation patterns.  I'd grown up picturing most of Africa as a large desert or vast savannah, but Nairobi reminded me more of a tropical zone like Panamá and had so much more natural space than my current city in Korea.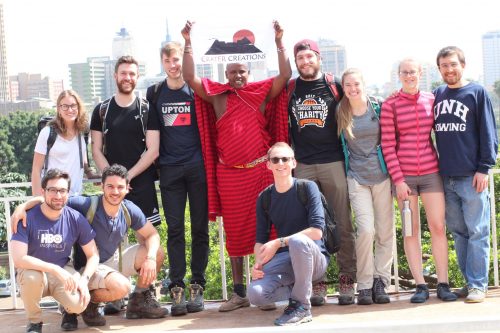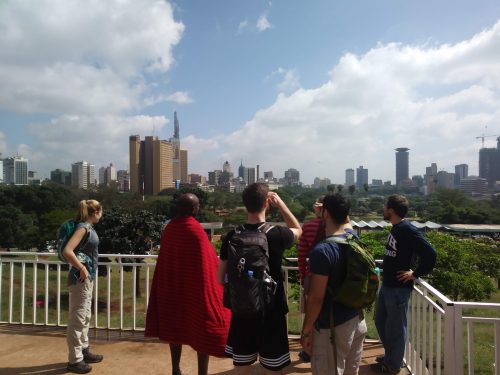 The second thing made me feel extremely ignorant, but has completely changed my perception of the 6th continent for me to visit.  Kenya, like Tanzania and Zambia, is a former British colony and so the majority of Kenyan people speak Swahili and English.  Though I probably should've known that, I was surprised (again because of my preconceived notions of Africa) that I had less of a communication barrier in Kenya than I do in Korea.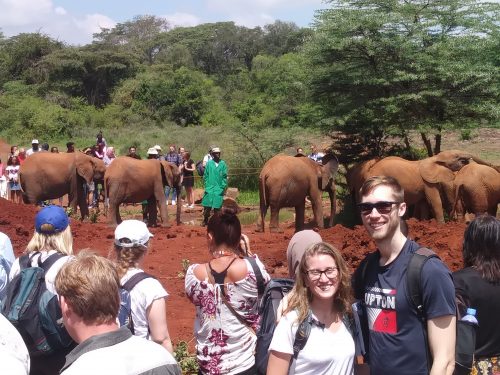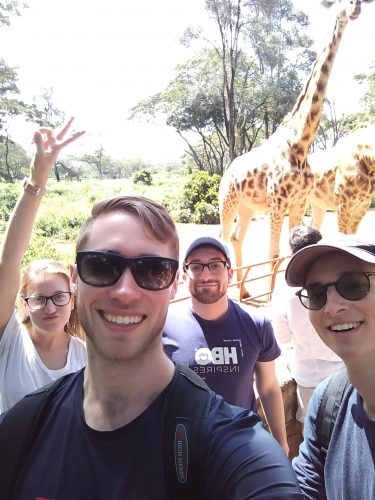 After I finished settling into the Trademark Hotel, the entire group materialized soon after and we began checking off items on the itinerary.  Allow me to now reintroduce my friend David (who invited me on the trip) and the non-profit he co-founded, Crater Creations.  Although our group consisted of outdoors enthusiasts and active lifestyle lovers, we all congregated in Africa due to David's passion for sustainability and the Kisharu community he works with.  David inspired us to help fundraise for ongoing projects and we were fortunate to be able to visit the actual community, see progress being made, and meet the individuals that are working hard to further development in the community.   
            Kisharu is one community of the greater Maasai ethnic group.  The Maasai people are scattered across Kenya and northern Tanzania and live a nomadic lifestyle.  As such, the Maasai people can migrate across the Kenya/Tanzania border without a passport.  Because the communities are not cemented in one place, there are an estimated 850,000 – 1.5 million Maasai people but the total cannot be determined definitively.  We learned from Daniel, a prominent member of Kisharu who speaks English, Maa (the local language), and Swahili fluently, that Maasai are highly respected and consist of more than 10 clans.  Maasai is a tribe, whereas individual communities comprise specific clans. 
Daniel was David's initial contact in the Kisharu community and together they envisioned enacting a world of change.  Crater Creations was formed to fund and execute sustainable development projects.  The name stems from Kisharu existing near a crater, the underground volcanic activity (geothermal energy) providing steam and thus renewable water and also the potential for  power.  Crater Creations facilitates various projects within the community including these water condensation systems, further education for the Kisharu youth, livestock investments, transportation, and starting local businesses.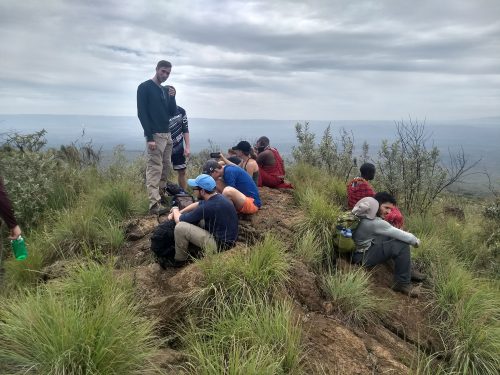 ---
Kisharu is located near Suswa Town, about a 45-minute drive away on bumpy, rural dirt roads.  The Kisharu community is very spread out and as such, it can be difficult for community members to organize and get from place to place, especially because most people don't have motor vehicles.  This also means it can be difficult for outsiders that interact with the community (the local doctor, teachers, etc.) to get there easily.  Crater Creations thus works to develop long-lasting projects that will most benefit Kisharu moving forward.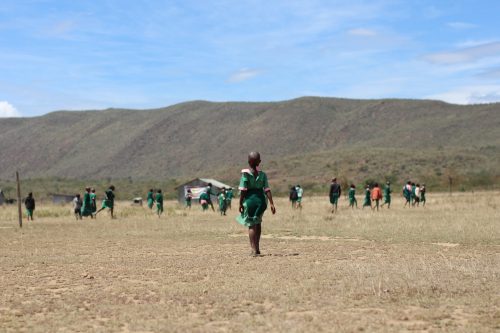 We were extremely excited to meet the Kisharu people, who warmly welcomed us and communicated with us through Daniel when English wasn't a viable option.  However, I was extremely impressed by how well the community members did speak English, including the students and teenagers.  We were accompanied for a few days by Lesinko, a recent high school graduate who aspires to go to college for engineering.  Before he applies, he hopes to learn how to use computers never having had the opportunity before.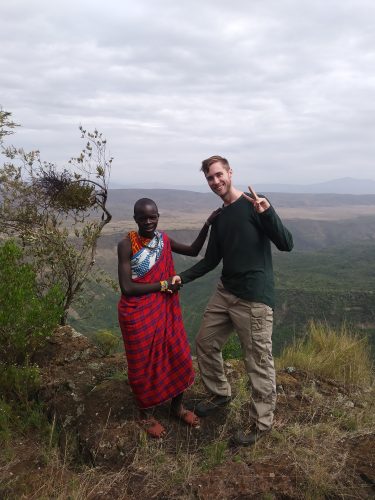 We camped near the Kisharu community at the nearby Mt. Suswa site, where we also did a 4-hour prep hike before leaving for Tanzania and Kilimanjaro.  The community also showed us around their homes (naturally made structures called Manyatas and organized in groups called an Enkang), the existing sustainable infrastructure, clothed us in local Shuka robes, sung to us (during which we joined in) some traditional chants, and described what they hope to achieve in the future.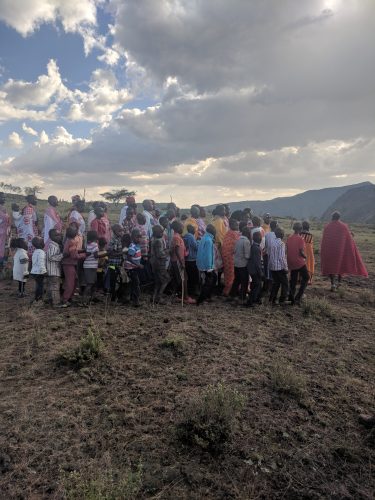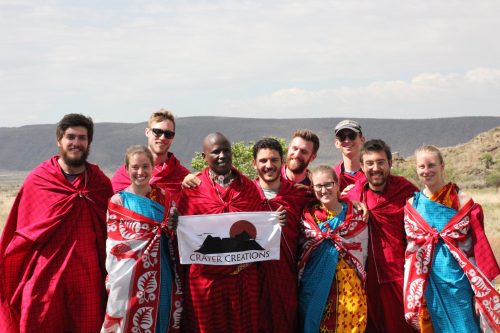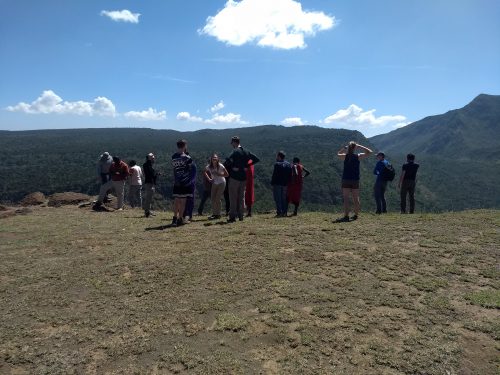 I was especially moved when we visited the local dispensary, a kind of all-in-one stop for the community's medical needs.  With the few resources they have in that small building (constantly being promised more by the Kenyan government and yet still with nothing to show), the provincially-assigned doctor must treat illness, dispense medicine, and make home visits using confusing local maps to deliver babies and such.  The community does not even have a refrigerator, meaning they cannot store and administer vaccinations on site.  Seeing how they are able to make do without such seemingly necessary equipment made me realize how special this community is and just how much Crater Creations can make a difference.  Accordingly, we added funding a refrigerator for the dispensary to the Crater Creations project list.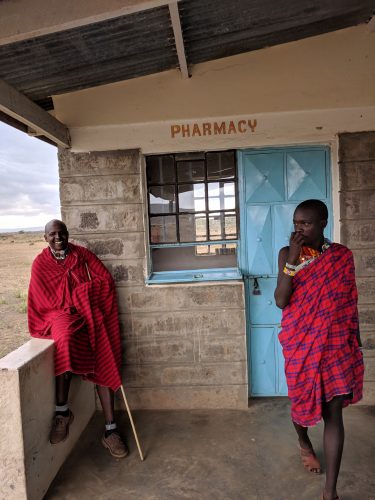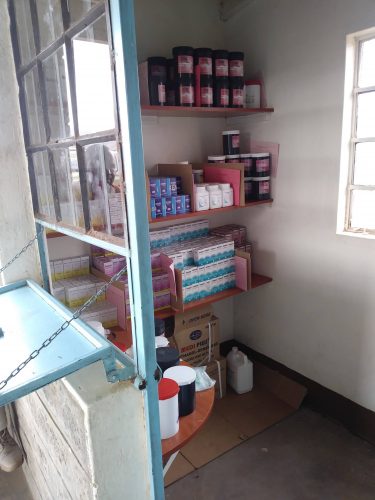 ---
Tanzania – Moshi, Mt. Kilimanjaro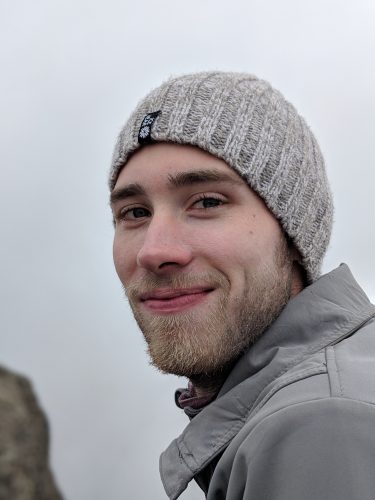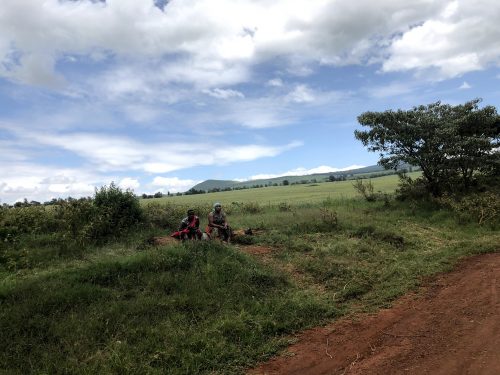 We left Kisharu on a high and full of hope and trust that Crater Creations will continue to make a huge impact in the future (with our help and support too) and that the climb of Mt. Kilimanjaro would go smoothly and safely.  Before beginning the climb, we spent the night in the city of Moshi (over which "Kilimanjaro rises like Olympus above the Serengeti…" – oh wait, I shouldn't let the Toto lyrics sneak in like that) and bought all our last-minute supplies.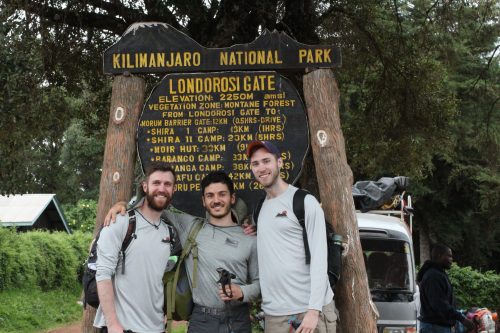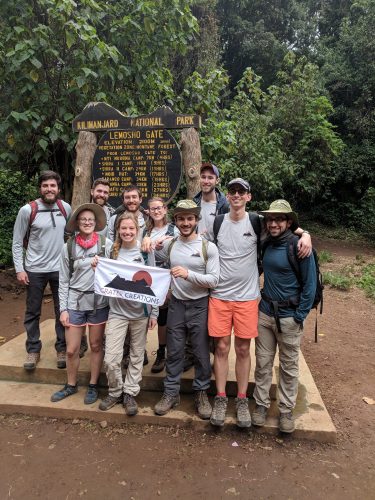 Kilimanjaro is the tallest peak in all of Africa and as such, summiting requires planning and outside help, though not as much as Everest.  When climbing the mountain, you can choose between different trails and durations; we chose an 8-day climb (six days up and two down) over let's say a five, six, or seven-day trip to maximize acclimation time to the high altitude and also opportunities to relax and enjoy the beautiful mountain scenery.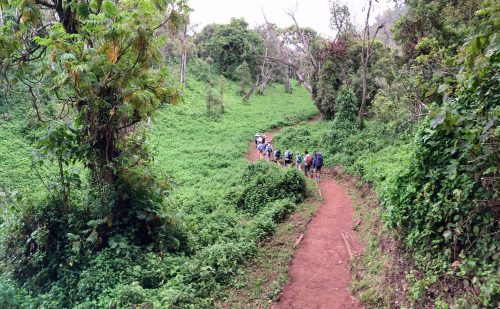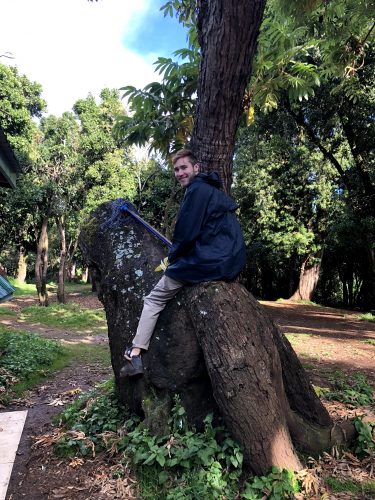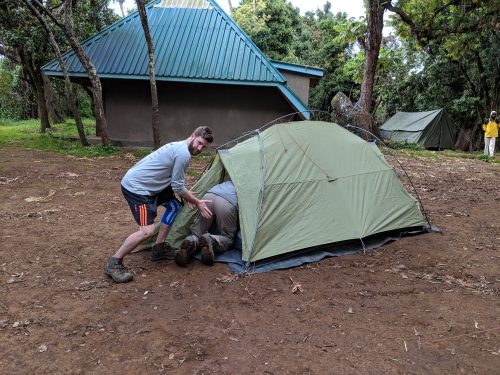 Kilimanjaro is the tallest peak in all of Africa and as such, summiting requires planning and outside help, though not as much as Everest.  When climbing the mountain, you can choose between different trails and durations; we chose an 8-day climb (six days up and two down) over let's say a five, six, or seven-day trip to maximize acclimation time to the high altitude and also opportunities to relax and enjoy the beautiful mountain scenery.
Not surprisingly, summiting a mountain of that stature also requires a group to be accompanied by local experts.  Our group of ten climbers was accompanied by 28 (yes, TWENTY-EIGHT) others including: three guides, two cooks, two waiters, porters to carry the tents and larger bags, and others.  That might sound like overkill (and even we were surprised by how intricate the experience turned out to be), but this is a big part of Tanzania's economy and tourists coming to hike Kilimanjaro provides jobs for a lot of local people.
The highest peak of Kilimanjaro is Uhuru peak, standing at an impressive 5895 meters (19,300 feet) above sea level.  We started at the Londorossi Gate at a measly 2100 meters and over the course of 6 days surpassed even the clouds.  Some days were shorter, while some days were long and grueling.  Climbing Kilimanjaro felt like we were traveling through different lands, the base of the mountain more tropical jungle and the peak a bleak winter snow scape.  As we went higher and higher, we felt the rush of almost being at the top of the world.
Sadly, a couple days into the hike one of our members succumbed to altitude sickness, a debilitating nausea and hours of vomiting.  Despite taking Diamox, preventive medicine that promotes the binding of oxygen in your body, sometimes even the fittest, most seasoned climbers can develop symptoms with little to no warning.  The good news is that the remaining 9 climbers did manage to summit, despite some days of feeling down on energy.
To pass the time, we would talk about life or sing songs that we could pretend to know at least 80% of the lyrics to.  I even made a Kilimanjaro playlist (one song for each day of hiking) featuring such classics as: "Africa" by Toto, "Eye of the Tiger" by Survivor, "Ain't No Mountain High Enough" by Marvin Gaye, and "The Climb" by Miley Cyrus.  Each day we would wake up early and eat breakfast, pack up, and be on the road by 9am.  No matter how fast or slow we went as a group, the porters always surpassed us in droves and the night's camp was set up by the time we arrived.
Sometimes we ate lunch along the hike and some days we finished hiking before lunch, eating in our iconic green meal tent.  The food was always delicious, almost magical given the fact that we were so far removed from convenience and electricity.  We would also share snacks along the route (darn David forgot the massive puppy chow bag that his friend made for us) including my array of Korean snack staples that I wanted to introduce to everyone.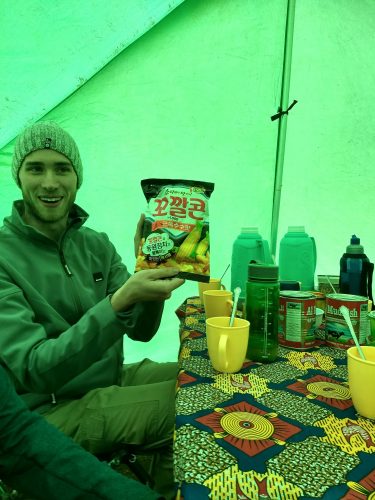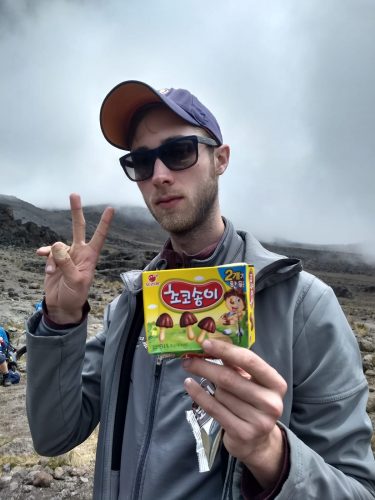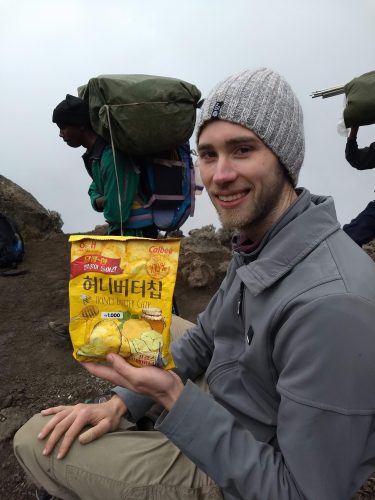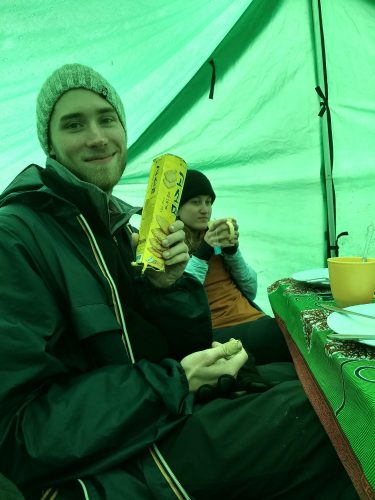 The routine was pretty consistent each day, until summit day.  The group set out at midnight, getting what little sleep we could muster beforehand.  Our group's goal was to reach Uhuru Peak by the sunrise at around 6:15am, to watch the morning sun cascade over all of Tanzania.  The middle of the night was dark and cold and we layered up as much as possible, knowing that the summit cold would be more brutal than anything we had experienced thus far.  The summit hike normally goes slowly and methodically because of the extreme high altitude, exhausted hiking, and steep incline.  We were even more 'lucky' because we summited through a gusting blizzard.  What a night to remember.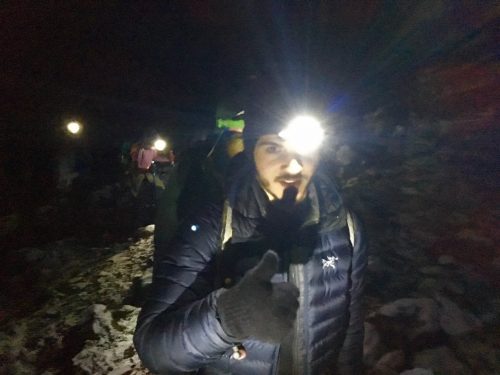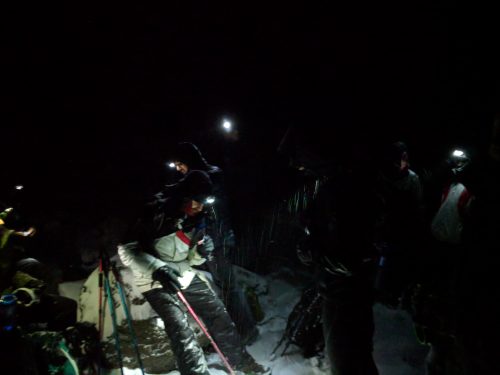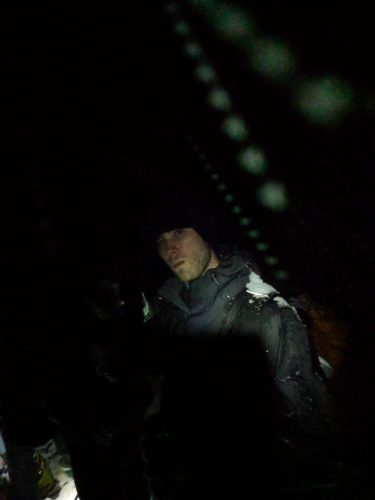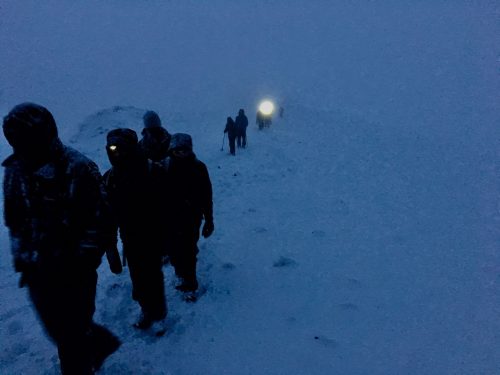 Reaching the peak after hours of mental anguish and possibly slight dehydration delirium, we truly were blessed with the views of a lifetime.  The peak was still cloudy to an extent, but the sun began to peek gently through and the sunrays were sparkling even brighter above the cloud horizon.  After taking celebratory photos and resting briefly, we began the descent down to base camp.  Typically the hike down lasts two hours and serves as an easy hike after the challenging way up.  However, due to the aforementioned snow and subsequent aforementioned peaking sun, the slope became a slippery mess.  The entire way down was dangerously slick and took about three hours to conquer.  In times of need, I turned to eating snow, but not the speckled or yellow kind.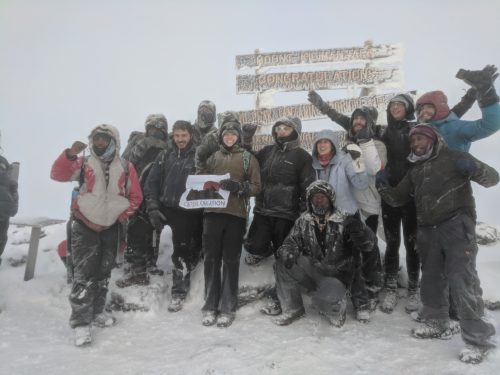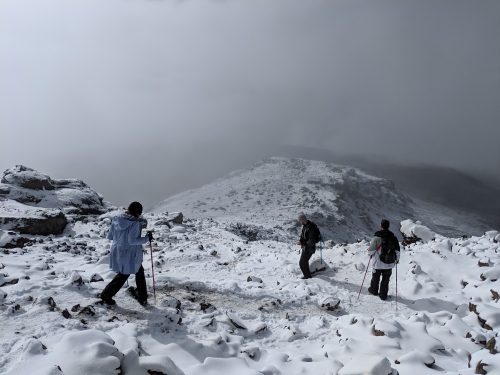 Arriving back at base camp and taking off layers and layers of wet, sweaty, overly-worn clothing was one of the greatest feelings I've yet to live through.  We all got back at different times, ate a light lunch, and then finished off the already 10ish-hours-of-hiking day (at that point it was about 10:45am) with one more 3-hour hike through relentless rain.  That day was one of the most physically demanding I've had, and the burden was only lessened by my extremely deep nap at the final camp site.  And that's about it.  The last day was a breezy 2.5-hour hike down a gentle decline and we rewarded ourselves for the 8-day conquest with cool cola drinks and bottled water.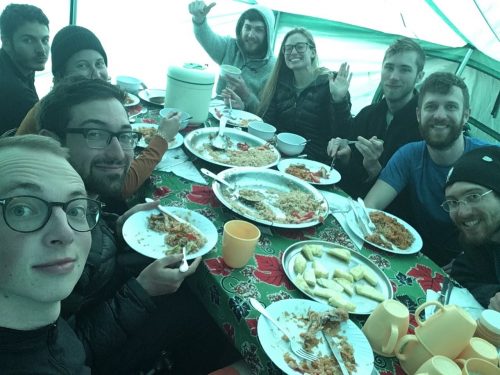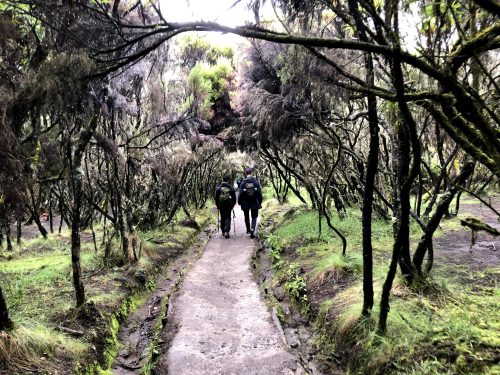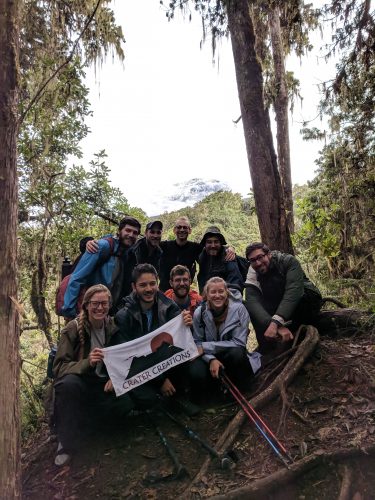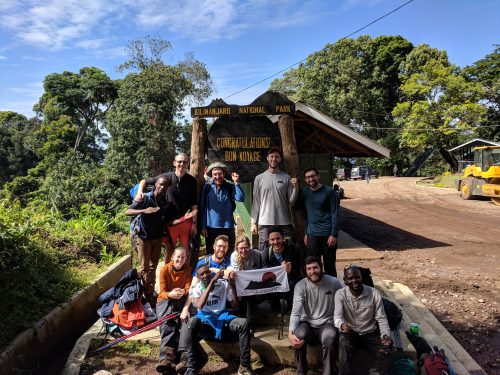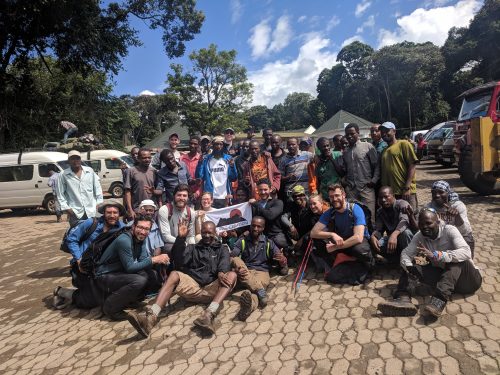 This African trip was all that I could ever ask for, made so much better by the amazing people I was spending time with.  There are so many intricate moments and details that make up the entire trip, but I wanted to focus on Crater Creations, the Kilimanjaro logistics, and to provide lots of photos for your viewing pleasure.  Feel free to contact me with more questions about the trip or how you can still help out with Crater Creations.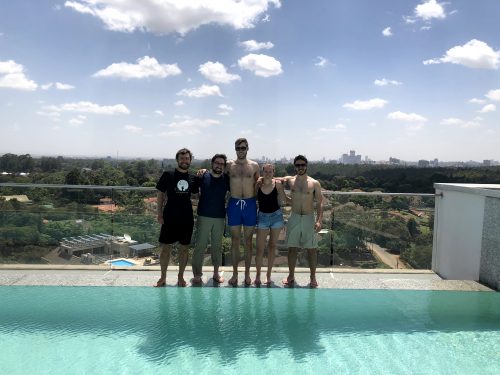 All the best in February,
Nathan