안녕하세요!  Afternoon everyone!
I'm sitting here in 중원대학교 (Jungwon University) after a long day of orientation programs with lots to share about my experience so far.  Having survived a week in Korea already and two or three days of dazed jet-lag, the schedule is keeping a steady rhythm and I'm slowly starting to feel like a teacher-in-the-making.  There are about 70 new Fulbright Korea ETAs this year and a good portion of them flew through Chicago; our cohort's nervous energy waiting for the flight was a pretty strong contrast to the rest of the tired, unassuming passengers awaiting their voyage to Asia.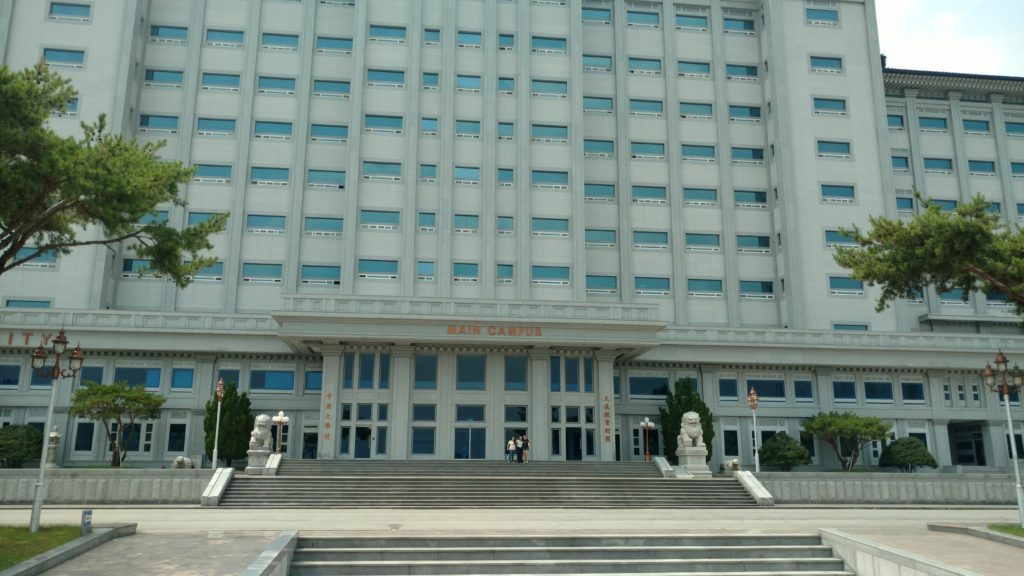 ---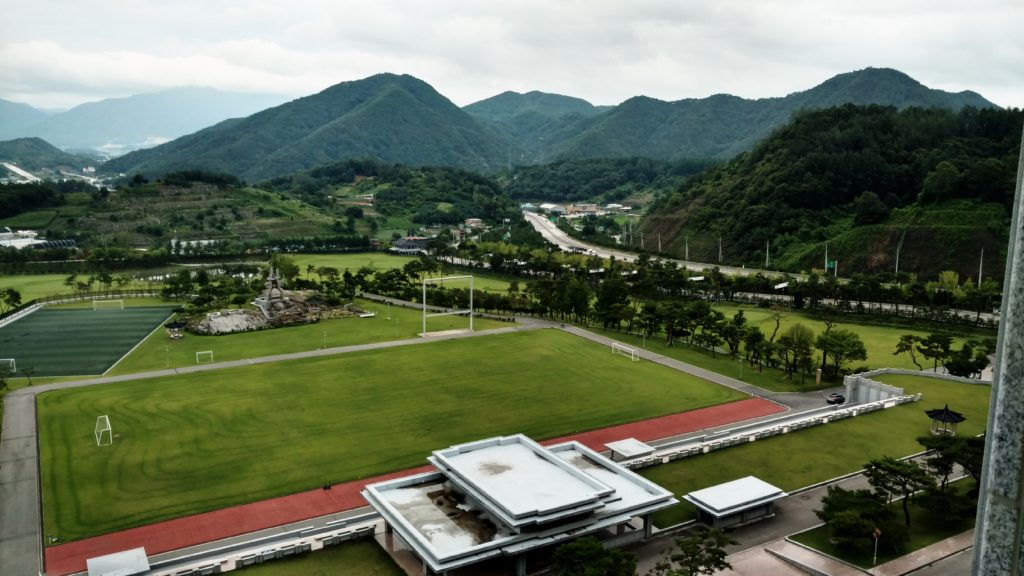 My flight buddy was fellow IL school alum Evan, another ETA from Kansas who had also taken some formal Korean classes prior to embarking on the Fulbright journey.  Apart from long naps and sheepishly trying not to offend the Korean stewardesses, we spent our time exploring the plane's in-flight entertainment system (notably "Bouncy-bounce", a riveting game in which you assume the role of a performing seal who must bounce balls skillfully across the water all while avoiding grenades from these creepy clown things).  If you're reading that description and confused about life, don't worry!  It's just as weird as it sounds, but still managed to appeal to my competitive spirit (looking at YOU, seat 39F).
---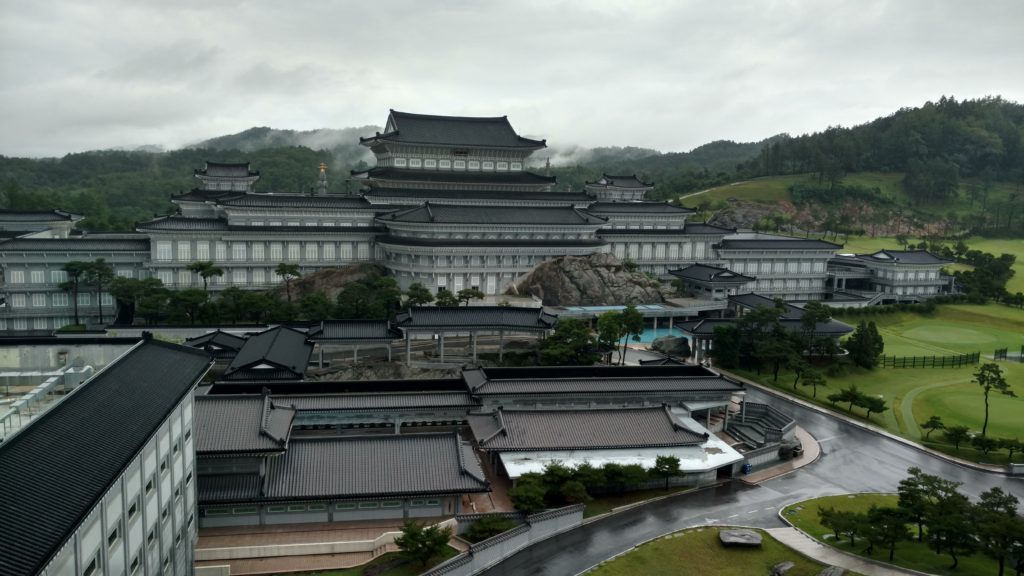 We arrived at the Incheon Airport on Sunday morning after a 14-hour flight from Chicago – ORD in dire need of showers and caffeine.  After doing some logistical stuff with our newly introduced orientation team (six current/past Fulbright ETAs who facilitate the training period), we were off on a 2-hour bus ride to 괴산 (Goesan).  You'd think the long flight and weary bodies would be justification enough for a day of rest, but no.  We were off to the races and plunging in head first to our new lives here.  And let me just say it is very difficult to meet people (let alone 68 others) when I barely could keep my eyes open and was fighting the urge to accept that I became a vegetable 40,000 ft. in the air.
The afternoon we arrived, we took a Korean placement exam for the language classes we have throughout the orientation.  Despite having taken a semester of Korean, the test was brutal.  I was just enough out of practice to understand barely anything, but somehow ended up placed in level 2, the intermediate class.  Oh boy.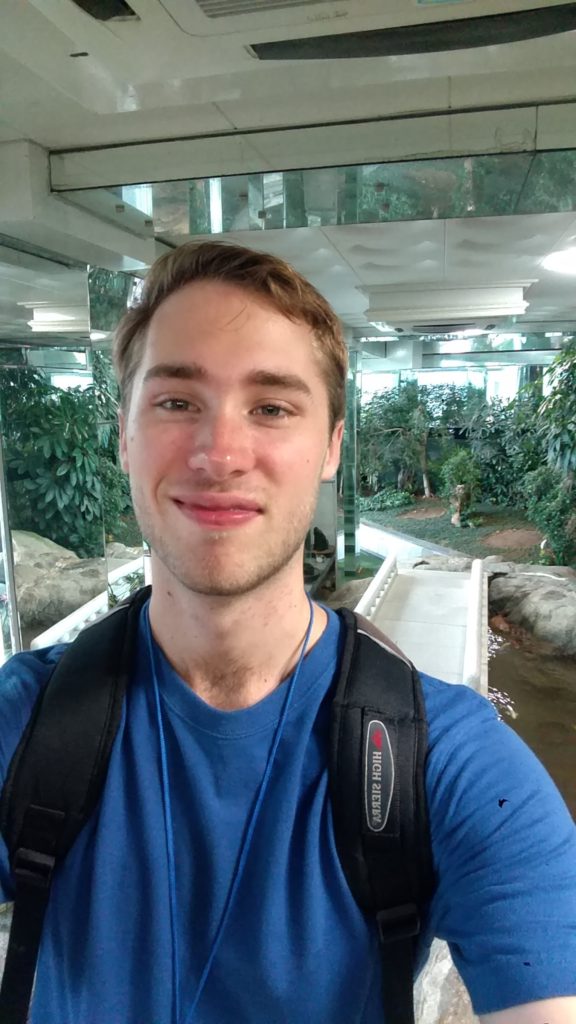 ---
I woke up Monday morning a new man or rather, one year older and still incredibly jet-lagged.  The big 2-3!  My early present was to jump right into 5 hours of Korean class, 9am-3pm with one lunch break between 1-2pm.  When I say we plunged head first into this program, I really meant that intermediate Korean class is taught only in Korean and I have a very limited Korean vocabulary.  Head first without a helmet or a parachute.  The first day we spent much of the class playing games to ease us back into the language and still 3 people ended up moving up into the advanced class and 2 down to the beginner level.  Section 2A is now proudly 8 strong and ready to take on the world.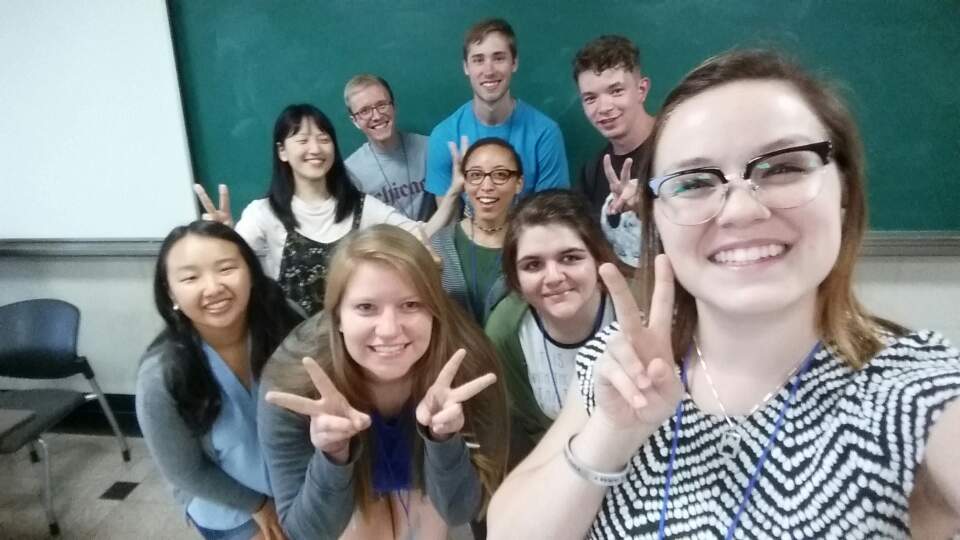 ---
In a lot of ways, I was more prepared for a challenge like this class than I thought.  My brain absorbs languages well, and now the situation relies more on me making an effort to learn the words and play catch-up a little.  Our 선생님 (teacher) makes the class enjoyable, staying patient when us strugglers are just out there strugglin' and giving a lot of her time and effort outside of class to provide additional resources and help.  In the process of learning Korean, we're still able to teach our teacher about American slang and other American culture tidbits.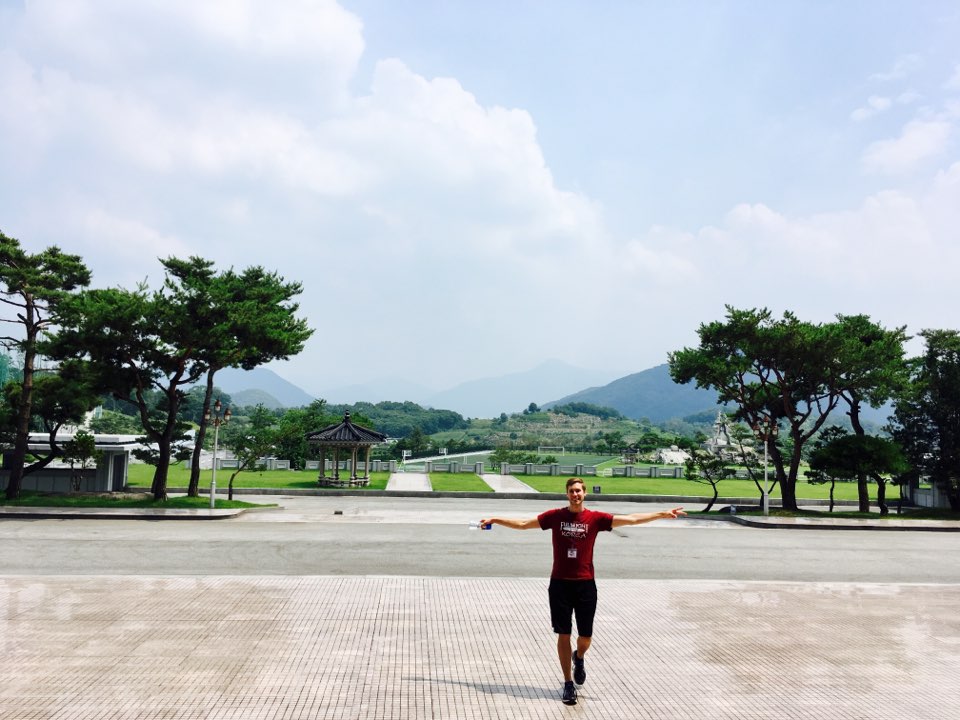 ---
In between classes and meals, I've joined forces with some other curious souls for an unofficial adventure squad, exploring little nooks and hidden gems within the university.  My fellow thrill seekers include Genesis and Emily, both future elementary ETAs.  We've gone through the bowels of the school to find a mirrored botanical garden, the university museum, a drained outdoor waterpark complex (complete with scary clown artwork and elephant statues), and a covert smoking/drinking spot for some vice-driven university employee(s).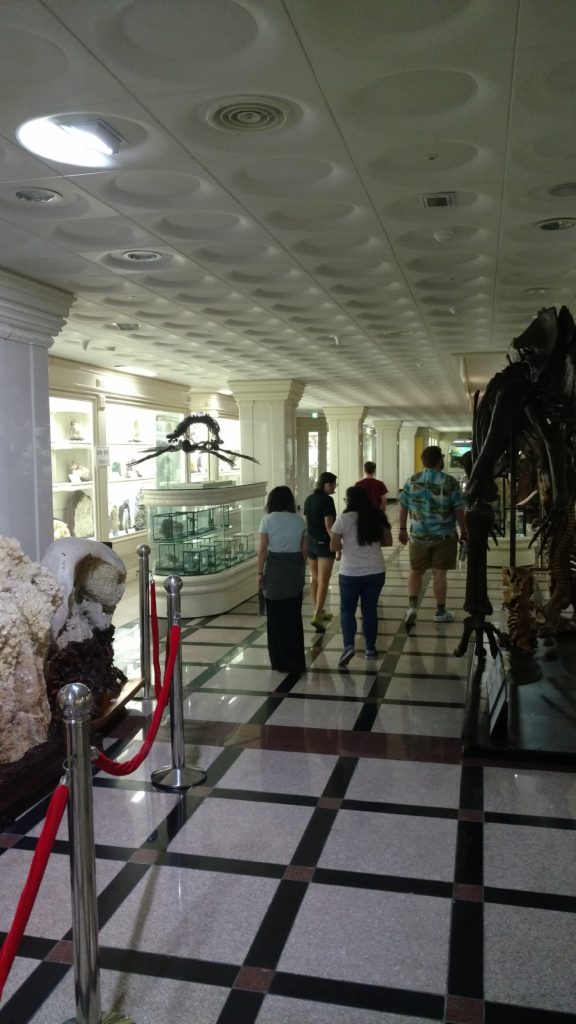 ---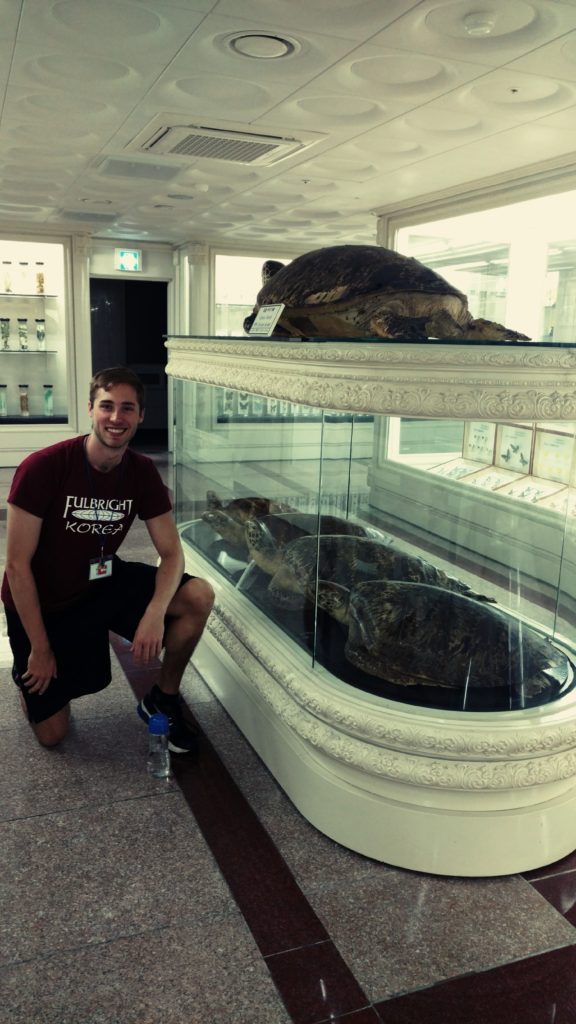 One of the established jokes has been that we're always being watched on the school's CCTVs, foreigners just waiting to cause mischief and step out of line.  **GRANT TERMINATION** But in all seriousness, the culture shock or lack thereof has been somewhat interesting for me.  In the school cafeteria, we greet the university workers with a traditional인사 (greeting and bow) and have adjusted to table etiquette (passing/receiving items with both hands, not sticking chopsticks upright in rice, etc.).  There are separate elevators for men and women and it's considered rude and unclean to remove your shoes and not be wearing socks.  The cultural adjustment will come naturally as the year progresses and for now I'm happy to just absorb more Korean and practice my speaking.
---
On the night of my birthday after another long day of programming, I went down into Goesan (downtown) with a few of the guys on my dorm floor: James (shoutout for papples), Peter (shoutout for Burlington, IA), and Zach (shoutout for ping pong).  We didn't exactly have a plan and I somehow was the one with the most knowledge of Korean.  With some broken speech and repetition of the word "soju" we were able to stumble upon a modest little bar.  The four of us went through seven bottles of soju and ended up sitting with two Korean businessmen who were on the verge of sloppy drunk.  Definitely made for a great first birthday in Korea.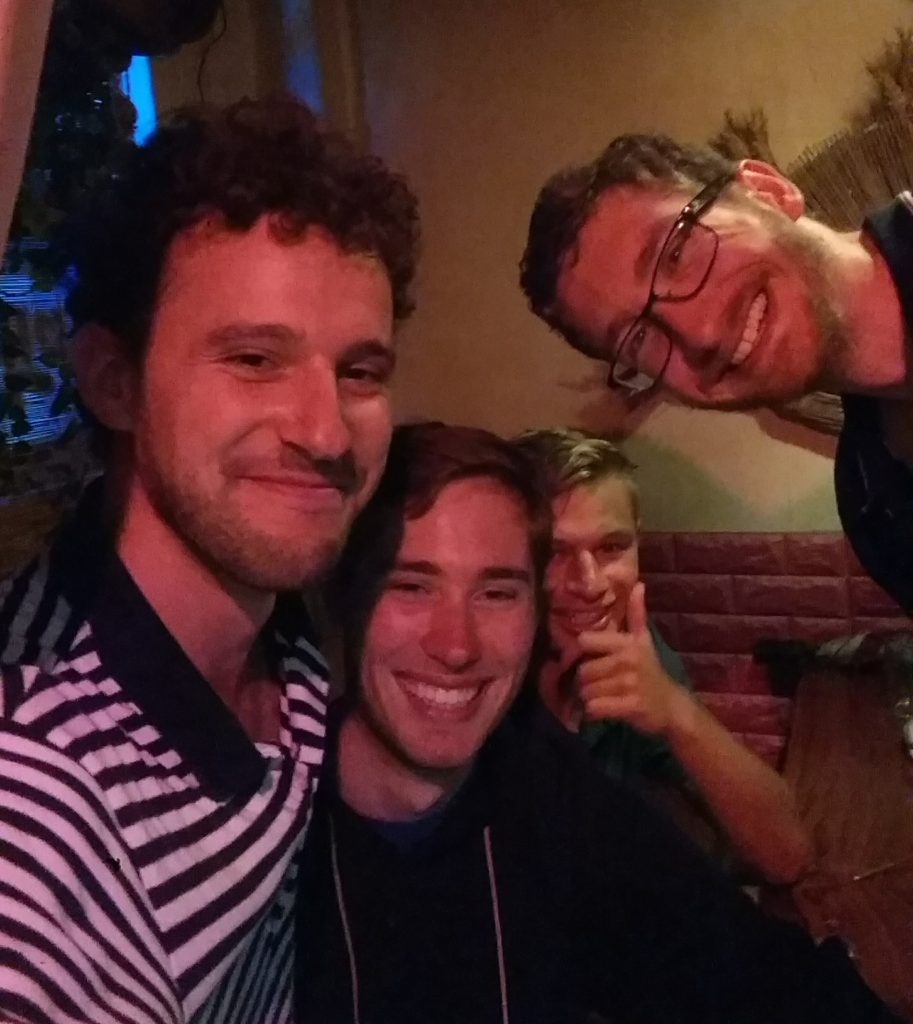 The next day was my favorite part of the orientation thus far.  The cohort bussed out for school site visits; my group went to an elementary school in세종(Sejong) about an hour away.  The current ETA there, Shamara, was completely in her element and great at explaining her experience with grade school kids and adjusting to working in a Korean school.  I don't get to be around kids often, but it gave me so much energy to see all the kids playing and have them stare at me in utter awe of the giant standing before them.  I came to Korea under the impression that the Korean school system would be much more rigid and strict than I observed there.  Our role as an English teacher here is not just to talk about grammar, but also to give students all kinds of support during a really stressful academic point in their lives.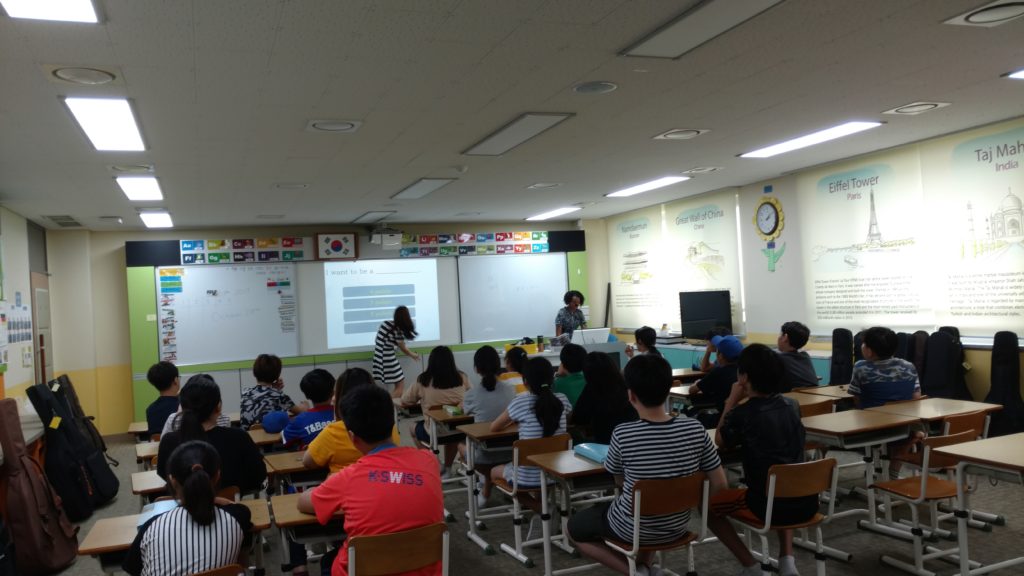 ---
The rest of the week was all one held-out blur of Korean classes,김치 (kimchi) at every meal, and continuing to meet all the ETAs.  At one point, there were some conspiracy theories floating around because in this group of ETAs, there are 3 Nathan S's, all left-handed.  Screams illuminati, but I'll chalk it down to lefty power and creativity.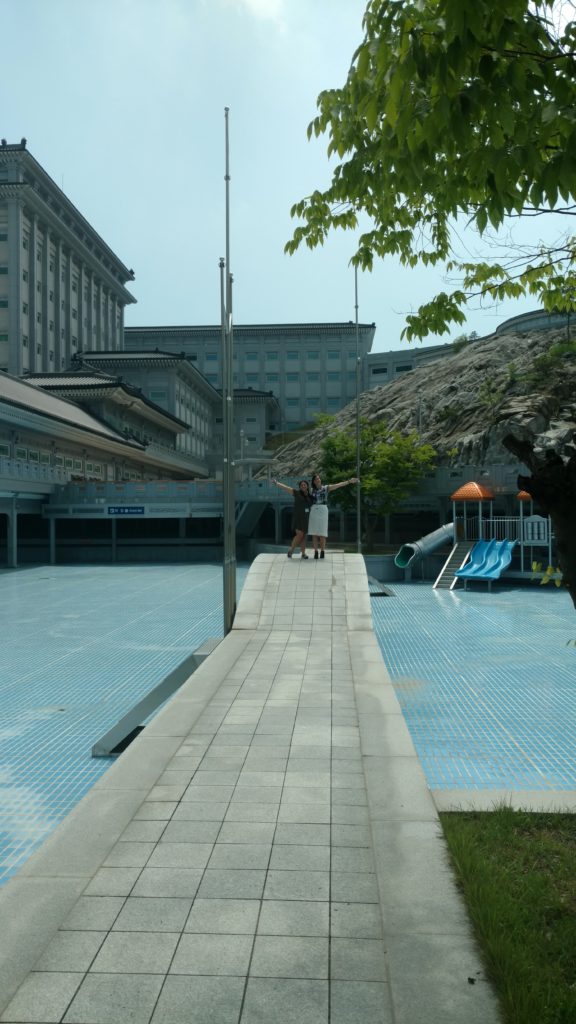 ---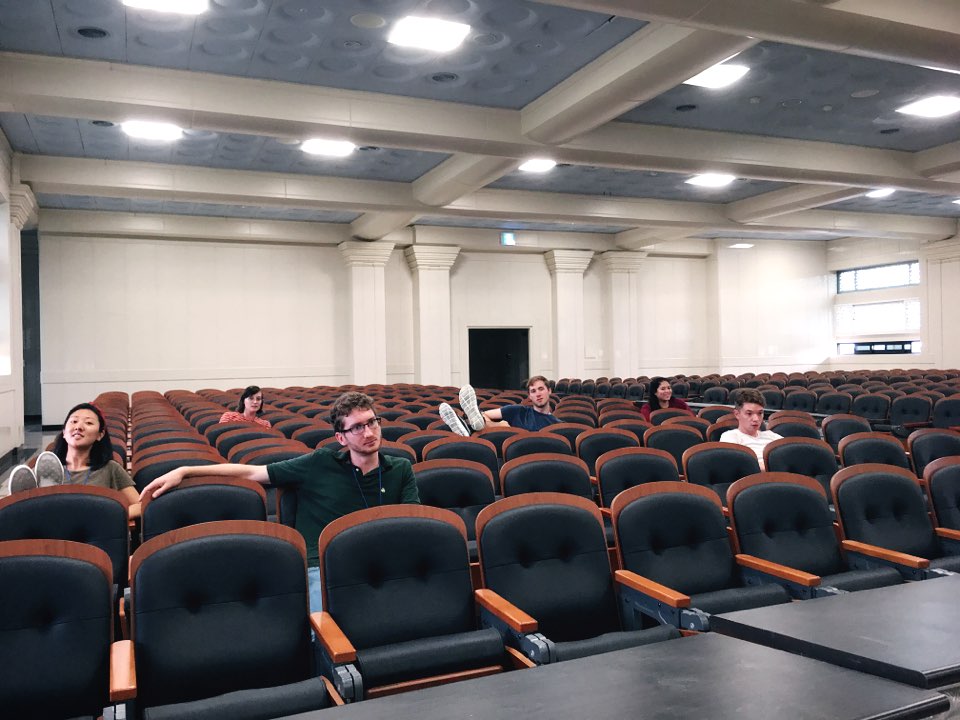 One night, I went to a barbecue restaurant in town with a research study group.  The study leader, Laura, is working on her PhD about the formation of teacher identity and we had a really thought-provoking discussion over dinner.  When the weekend finally arrived, we were all thirsty for a mental release.  What better way to do that than going to a  노래방, the Korean karaoke.  Our room masterfully conquered "The Fox" ~ Ylvis, "Toxic" ~ Britney, and "Tik tok" ~ Ke$ha before making the trek back across the river and up the hill to campus.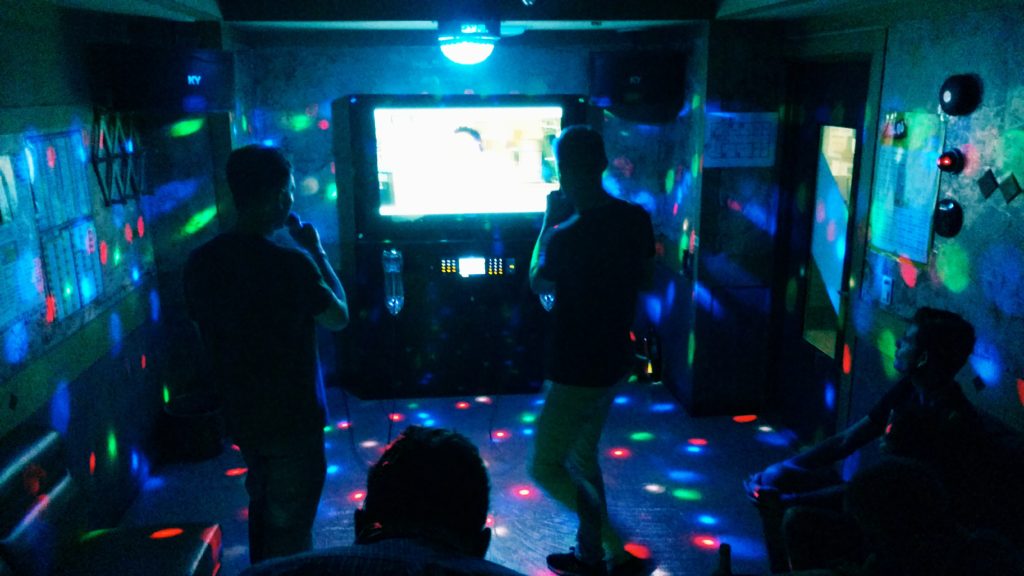 Although I'm still looking for my 'in' for becoming a K-pop sensation, the orientation has been the perfect introduction to this new culture and teaching.  The school had some minor issues with flooding, my knee was acting up a bit, and I don't have instant access to buttermilk pancakes here in Korea, but there's so much to look forward to along this journey.  Our school placement ceremony is tomorrow, so I should have some exciting updates soon.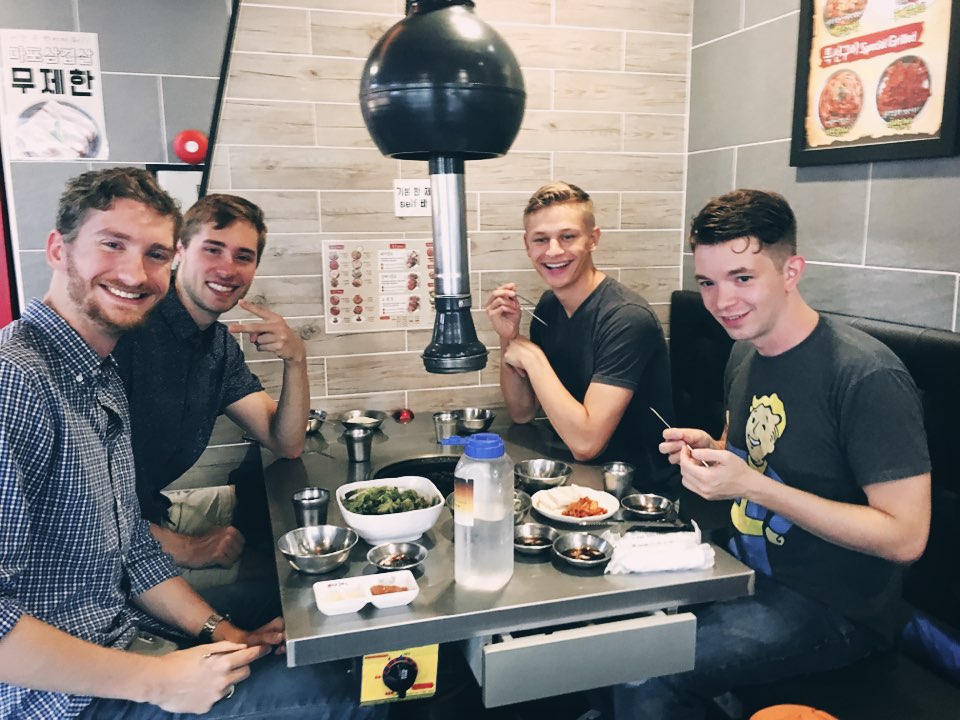 Check back in when you can :3
– Nathan