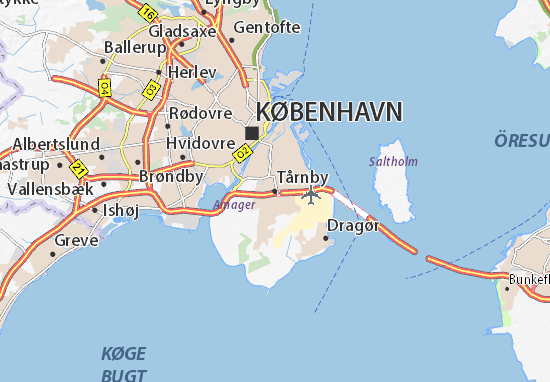 "Meet Hvidovre (pronounced kind of like vee-door), the small suburb of Copenhagen (København) where I'm doing my home-stay this spring semester." 
I arrived just a few days ago, exhausted, hungry, and slightly concerned.  My flight leaving Chicago left about 2 hours late, making me miss my connecting flight in Brussels hours later. It wasn't a big deal, but I had no way of contacting my host mom (and I didn't want her to wait at the airport too long!)  I eventually made it though, with an extra layover in Munich and met my host-mom at the airport.
My host-mom Inger seems reserved and humble at first glance, but she's one of the most hardworking and down-to-Earth people I've ever met. I'm living here in a cozy little house on Lellinge Alle with just Inger and one other tenant, a 29-year-old Australian guy named Gary. Inger has 3 sons that are older, moved out, and live in the greater Copenhagen area. Gary works for the United Nations in Copenhagen and came to Denmark from Sydney for work. I almost forgot to mention the host cat, aptly named "cat" and always ready to sneak attack a cuddle session. This cat also somewhat freaks me out because it knows how to open doors and tried to discreetly sneak into my room at 3 a.m. one night.
---
Did I mention how cool my host mom is? The first day here, she took me downtown to bike around the city, show me the ropes a bit, and make sure I knew where to go for the first few days. Inger seems older, but has more spunk and energy than I do. She works no less than 4 jobs: as a librarian, lifeguard, caring after elderly/sickly persons, and teaching older people how to use computers and tablets (I told her my parents were in dire need of that one). She can also whip up a great dinner in no time, knows more about American movies and television than I do, and lives well within her means. She makes do with her few possessions by really taking the time to appreciate all the wonderful people in her life. She casually mentioned that she also illegally downloaded all of Breaking Bad to watch on her tablet.
The first three days this week are all geared toward orientation and discovering different aspects of Copenhagen and the Danish Institute for Study Abroad (DIS). It was actually really intimidating to go into the city by myself Monday morning, knowing no one, and seeing the hundreds of study abroad students in one giant horde at the initial orientation ceremony. Imagine back to freshman year, but in a foreign city where you know none of the local language. It's really stressful, feeling the pressure to make friends (because you're somewhat isolated from other students at first in a home-stay), but also exciting and mysterious.
---
Within two days, I've already met a handful of great people and wandered the streets of Copenhagen enough to look like a tourist four times over. There's still a lot to learn, waiting for classes to actually begin and settling into a routine, but for now it's nice to see how things play out. I'll try to focus on the cool things I find out about Denmark, the interesting people I meet, and the non-school parts of my stay that make studying abroad so fulfilling. I'll also post many more photos, but honestly I haven't taken many yet ('-o-). Guess I'm a little awestruck by all the new sights and sounds, but expect photos to come very soon!
Until next time,
Nathan