Good morning/afternoon/night to whom it may concern,
I left you on a cliffhanger; WhAt HaPpEnEd DuRiNg ChUsEoK?  That was supposed to be my nonverbal method of creating suspense.  I made a comparison that Chuseok is the Korean version of Thanksgiving and we all know that holidays are truly exciting because of juicy family gossip and day-of preparation drama.  Did my host-grandma drop a plate of food and glass shards tragically impaled my pinky toe?  Or did the boys sneak away to drink soju?  No?  I'll leave the drama for my family back in the States when they'll undoubtedly finish off innumerable bottles of red wine at Thanksgiving dinner.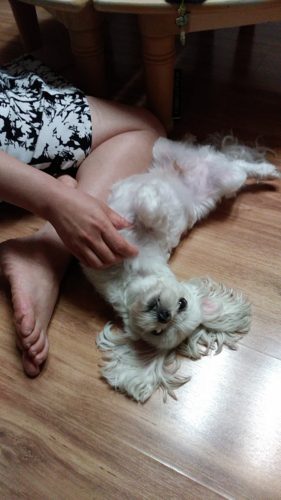 ---
My only dramatic Chuseok moment was waking up to my host mom's respectfully quiet warning that family would be at the house at 8am, unbeknownst to me seeing as I went to sleep early the night before.  They don't kid around.  The whole extended family was there, looking polished and primped, at the suggested time like clockwork.  They had to prepare the Charye table, a table of traditional foods in respect for ancestors and dead relatives.  There is also a bowing ceremony, but I somewhat awkwardly stood off to the side and admired their bowing technique from afar.
This morning ritual was only shared with my host dad's side of the family.  My host mom's (Adero's) parents recently moved to the more rural community of Dongtan, having lived just three buildings down from us in Cheongju for the last 10+ years.  Driving to Dongtan from Cheongju usually takes about an hour and a half, although holiday traffic was clogging the highways more than I had seen previously.  It was very sweet of the family to include me in their plans and although two of my host siblings did not come (intense studying for one and pseudo-babysitting for the other), the family bonding time was undeniable.  The women bear the daunting responsibility of preparing the food and the home for holiday gatherings and this begins at least a week in advance.  We stayed overnight in Dongtan and although I was shy to talk a lot to the grandparents and aunts/uncles/cousins, there was a genuine feeling of inclusion.  In fact, family gatherings here are not too different from what I'm used to.  The kids are on their phones or otherwise plugged in, the dads and men are watching tv (sleeping optional), and the women are cooking in the kitchen or doing otherwise useful activities.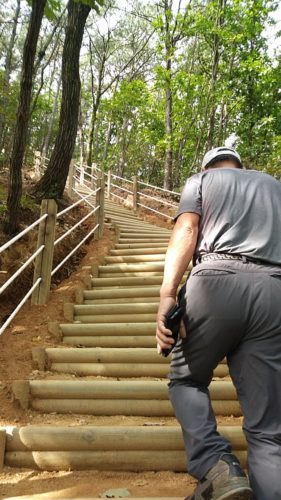 ---
Dongtan was just the 3rd adventure during my string of 10 vacation days.  I returned to Cheongju for a forgettable 30 minutes before rushing to the terminal for destination number four.  Reuniting with the same Daegu and Jinju crew, I headed to Andong, the site of another popular Chuseok-time festival.  Andong is the site of a mask-dance festival, showcasing traditional Korean masks and performing dance groups from around the world.  The real draw and excitement for this venture was actually not the festival itself.  Now almost two months into living apart with their respective host families, the ETAs have all shared funny, heart-warming, and downright awkward stories about experiences we've had.  Many of my friends have been similarly blessed with caring homestay situations.  The first night in Andong we ate dinner with my friend Emily's host parents and their two young boys.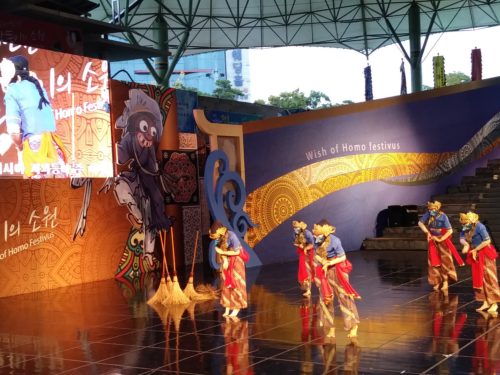 My host siblings are all older, so I wasn't completely prepared for the cuteness of little kids.  One of the boys, poor guy, had been feeling sick and the dinner did not sit well with him at all.  It was a spicy octopus concoction, something Andong is famous for but not really my preferred food option.  We finished up the dinner quickly to let the kids go to bed and get some rest after a long day and then headed to the supermarket downtown for a trove of snacks and drinks.  We devoured bags of chips and pretzels, downed beers and soju and makgeolli shots, and talked with Emily's host parents about life and silly things.  Yet again the night was stormy, so the setting was perfect for a cozy night of conversation and libations.
The next day was truly a fairytale.  My other friend Leeann lives and teaches in Andong and her host family was very generous to let us sleep in their home for one night.  We hastily transferred our belongings from the guest house to Leeann's homestay.  The apartment, better described as a nursery or preschool, is run by Leeann's four (count them four) little host tykes, ages 2,4,6, and 8.  My relationship with young kids has mainly been nonexistent since I was little myself; I'm the youngest child on both sides of my family and there's been a general lack of procreation lately (since my birth in 1994 to be exact).  When an infant looks at me, it brings back my own immaturity, never buried too deep below the surface.  While the girls were showering and getting ready for the festival, I pretended to be a zombie and bravely became the villain in a narrative about young Korean heroes trying to destroy the tall, cumbersome zombie man.  The eldest is quite the little deviant, getting a toy hammer and gleefully coordinating sneak attacks on my butt with her brother.  I heard a few "zombie poops" being thrown about in conversation, English teaching at its finest.
---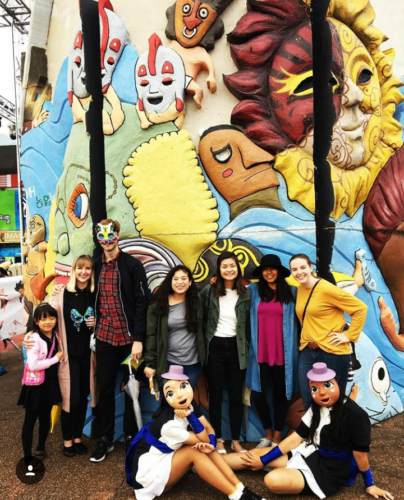 Later in the afternoon we arrived at the festival, four strong (we brought Leeann's oldest host sister with us).  Another traveling group of ETAs was in town for the festival and we spent the rest of the afternoon exploring the mask festival together.  All in all, my favorite part was making our own masks using colored foam clay, the kind you used to see in Nickelodeon tv ads and thought was overpriced and probably toxic or in some way, irrelevant.  We spent about an hour crafting our new faces, the girls' masks clean and professional and mine somewhat abstract and contemporary (diplomatic speech for messy, but well-intentioned).
Yewon (Leeann's host sister) was a trooper and spent over 7 hours with six Americans, probably well past overload with English for the day.  Back at Leeann's apartment, we walked in on bath time.  I'm not up-to-date with the typical toddler progression from calm to insane, but post-bath time seemed darn close to peak insanity.  We were finally able to meet Leeann's host parents, Dr. Kim and Viki.  Their first impression of me (after hello) was the return of zombie Nathan, to the pleasure of the kids.  Who says I'm not a charmer?
Dr. Kim is a prominent orthopaedic surgeon in Andong and we bonded over my knee surgery and some other science-y things from my biology background.  The couple was incredibly hospitable and we were truly whisked away in a fairytale, if only for an evening.  Zombie Nathan washed his hands for dinner, and the warm water erased all traces of infection silliness.  At least until Dr. Kim whipped out a massive bottle of imported Japanese sake, a massive snow crab, and two bottles of red wine.  I was no longer a zombie, but I was fairly certain that I was no longer Nathan either.  For a one night visit, we were treated like royalty and I couldn't believe this kind of an evening was a normal household occurrence.  The conversation was just so organic and I'm very excited to return later during the grant year.  I made a promise to Viki and Dr. Kim that I would return and make homemade pancakes, so the fairytale shall continue one day.
---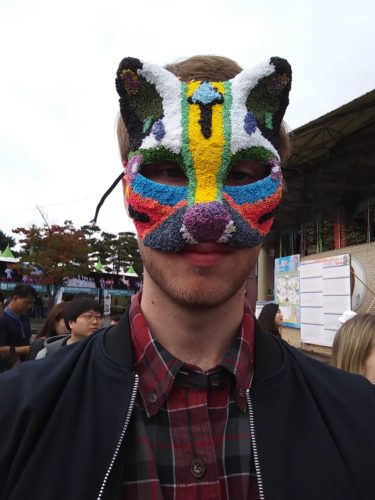 The final stop on my whirlwind Chuseok travel extravaganza was Seoul.  Heading into a sleepless city with my energy tank already depleted was alarming, but I went there on a mission.  Primarily to see a concert, visit friends, and eat good food.  I stayed with one of my Korean friends, YongMoon, in his apartment and upon arrival I immediately took a nap.  The concert in question was Hans Zimmer, the German composer responsible for movie soundtracks like The Lion King, Inception, Gladiator, Pirates of the Caribbean, Sherlock, and The Dark Knight.
Backed by a full orchestra and some special musical guests, Hans Zimmer was performing at the Seoul Olympic Stadium for the first time.  I actually attended by myself and I was surprised at how relaxing it was to appreciate the music on a solo outing.  For the first half of the show, I staked my claim to a spot in the standing room section up close and personal with the stage.  My height advantage is best utilized at concerts; while others are jockeying for position, I stand my ground and do my little Nathan sway to the beautiful music.  At the intermission, I moved to the very back of the far-away seated area.  My legs were tired, I was craving the Snickers bar in my pocket, and I wanted to see the incredible light display from a distance.  The lights intensified, flickering and playing with the stage in an eerie but magical way.  My favorite piece was a Da Vinci Code/Pirates of the Caribbean cello concerto mashup.  It was alluring, intense, and the camerawork was amazing.
            The next day I headed to the busy Hongdae neighborhood of Seoul, always filled with university students and foreign travelers.  Some members of my 2A Korean class from the Fulbright orientation were meeting up with our beloved Kim seonsaengnim for Sunday brunch.  The portions were impossibly large, but the company and atmosphere was jovial and warm.  From there we headed to a flower café, about 2/3 flower shop and 1/3 café.  Dried plants were hanging from all orifices of the ceiling, dazzling lights wove in and out of the flower rows, and the air was moist and earthy.  That night I reunited with even more familiar faces, ETA's Eunice and Zach at a yummy Turkish restaurant in the similarly tourist-filled neighborhood of Itaewon.  Like I said, a mission to visit friends and eat good food.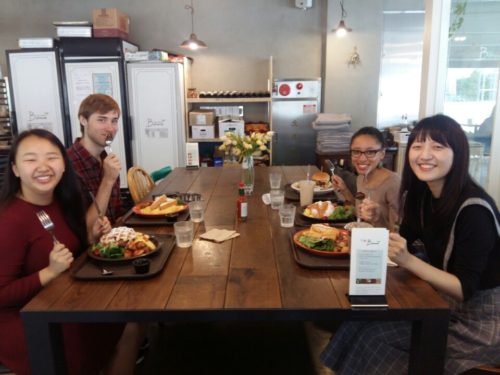 ---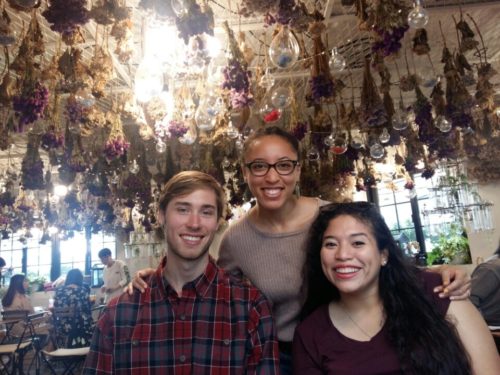 My final quest (besides making it home to Cheongju alive) was perhaps the most important and tragic of them all.  As you all know or will come to know, I am a fervent supporter of puzzles and riddles and games.  Seoul has some very well-reviewed escape rooms and I have really wanted to try them since reading about them.  Back in August, my friends attempted to go twice, but both times were foiled by poorly-timed public transportation and lack of cellular data.  This time, arriving just in the nick of time, we finally made it in.  The theme was "House of the Venetian" merchant and I was beyond impressed by the intricacy and props used in the room.  No spoilers, but I can confidently say I am now 4/4 with escape rooms, though this one was close with only one minute or so remaining.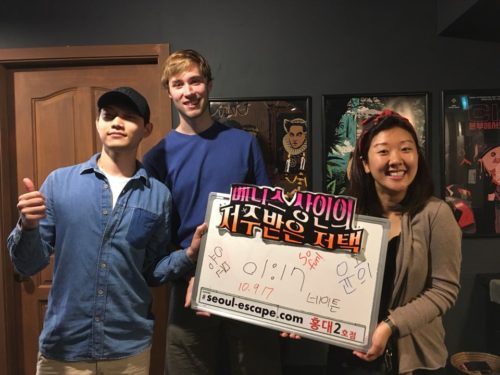 I'm now back in Cheongju enjoying a lazy, relaxing day at home.  The fall weather is amazing, the long holidays are in the past, and I'm truly beginning to connect with other teachers and students are my high school.  There is no easy way to dissect a first-time teaching experience because every interpersonal dynamic is complex.  One week, a student will smile and scream when they see me and the next they'll be asleep.  There is a constant flow of energy from person to person, from person to object, all interlaced with time.  It's impossible to reduce my experience to any specific triumph or failure, happiness or anxiety, because everything is related and the dynamic will continuously change until I leave the school.  Feel free to drop a comment with any questions or thoughts you have while reading about my experiences because I often have nebulous questions of my own that aren't quite solidified enough to actually ask.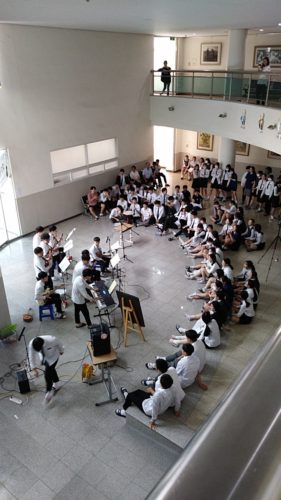 I hope the Autumn chill back home and in other places is just as refreshing as is here.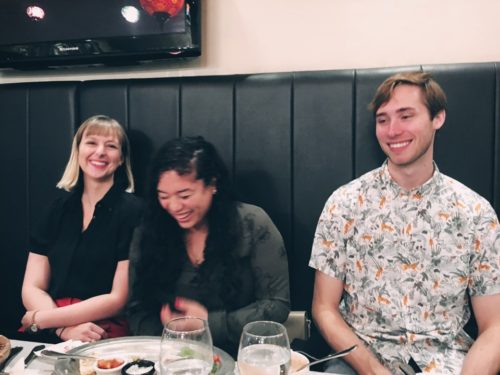 -Nathan